By ENGINEERING.com on August 12th, 2022
Carbon's new EPU 44 material uses a lattice to translate vertical force into horizontal motion in sustainability-focused Adidas 4DFWD footwear.
Earlier in June, Carbon announced the release of a 3D-printed material for applications in footwear and beyond, EPU 44. As described in the company's initial press release, the elastomer is stiff, durable, and flexible and builds on the success of its first-generation 3D-printed midsole, which is made from EPU 41.
The material is already being used at scale, with the white and gray versions of the midsole available in Adidas 4DFWD shoes. Essentially, the material is a replacement for foam in sneakers that takes advantage of the elastomeric properties of lattice to boost athletic performance and create a more sustainable product.
"Sustainability is a focus of both Carbon and Adidas," explains Jason Rolland, senior vice president of Materials at Carbon, to engineering.com. Part of the motivation behind the creation of the new material was to create a more sustainable product that can still achieve the same performance and customization that Adidas hopes to offer with their footwear. As a result, the overall design uses less material and contains 40 percent plant-derived content.
The Evolution of a Next-Generation Midsole
"When I first joined the company, we wanted to see how we could truly incorporate additive manufacturing (AM) into large-scale manufacturing," says Rolland. He explains that the company noted two significant problems that were keeping AM from being used in industrial applications. The first was the speed of printing. So, the company developed new technology to help companies print faster to make 3D-printed products at scale. Then, they noticed a second major problem in the actual materials available for AM applications. Most of the conventional materials for 3D printing, especially resins, work based on the principles of inkjet printing. However, the chemistry of these polymers and the printing process didn't necessarily align with complex architectures and material applications such as those required for shoes or cars.
"We realized we needed a different platform," says Rolland.
From this realization, Carbon developed dual-cure chemistry that combines the utility and properties of UV-curable and thermal-curable resins. On their own, both types of resins have major limitations. However, Carbon realized that combining the two materials would open up new opportunities for manufacturing at scale.
Now, they can print with UV-curable resins and trap thermal-curable parts within their design for a two-stage development process. First, UV-curable polymers are printed and then placed in an oven to activate the thermal-curable chemistry. These industrial ovens can be similar to a conventional oven that you might find in your kitchen, but some of the products require inert heating under nitrogen gas. With this printing process, Carbon has been working with Adidas for the past seven years to develop 3D-printed midsoles for the company's footwear.
Initially, this partnership began with the EPU 41 material launched as part of the Future Craft 4D sneaker line. Despite great initial progress, both companies noticed issues with the material regarding its weight and performance.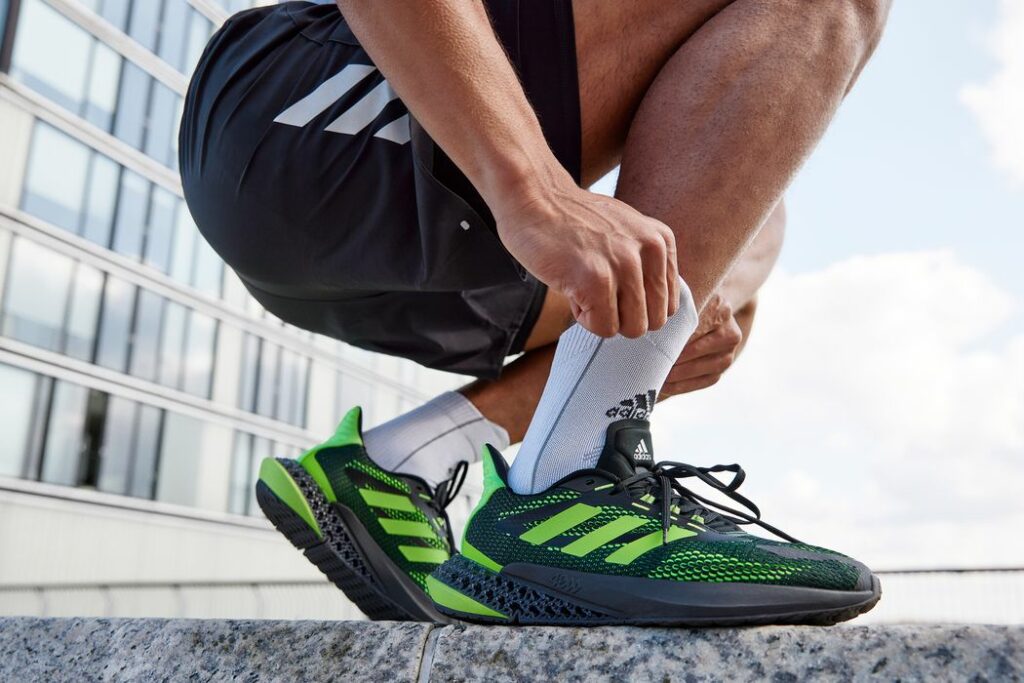 A runner wearing the 4DFWD Adidas shoes featuring the Carbon EPU 44 midsole. (Image courtesy of Carbon.)
In designing EPU 44, Carbon worked to decrease the weight of the midsole and improve the stiffness of the product by integrating lattices. To print complex lattice structures, the company needed to develop increasingly stiff struts to ensure the weight of the product was decreased without sacrificing support. The final product is a lattice design that provides forward displacement—a unique performance advantage. The lattice itself can translate vertical force into horizontal movement to improve athletic performance when the shoes are worn. Additionally, the company highlighted that the lattice material improves the shoe's breathability. Plus, a single lattice can create multiple zones of compression instead of needing to use multiple densities of foam that can impact how a runner feels compression. The final product feels more like a personalized compression to mold with an athlete's individual style of walking or running.
It seems that Carbon has achieved its goal of reaching large-scale manufacturing with its AM products. The Adidas 4D line is commercially available on its website and other sportswear sites, with all shoes in the line featuring Carbon's 3D-printed midsoles made with the EPU 44 material. Although Carbon couldn't provide specific numbers, Rolland shared that millions of pairs of the 4D shoes are produced every year and that the company's 3D printers are being widely used in factories in Taiwan, China and Germany.
A Focus on Sustainability
Beyond the shoe's performance and support of the midsole, both Adidas and Carbon wanted to design a sustainable 3D-printed material. The chemistry needed for 3D printing the midsole requires polyurethane-based resins, and this type of plastic can be made from either petroleum or biological sources. So, Carbon uses 1,3-propanediol made from glucose originally sourced from corn. DuPont sells these monomers as its Susterra product, but other companies sell a similar monomer. Carbon can then use this monomer resin to make the printable polymers required for its manufacturing pipeline. Not only is the material plant derived, but it also offers a performance advantage for 3D printing due to its low printing viscosity. This can increase the speed of the printing process to help scale the manufacturing of the midsole product. Now, the EPU 44 midsoles are produced with a 50 percent reduction in the carbon footprint compared to a conventional shoe.
"You often hear you need to trade off performance for sustainability. You definitely do not," says Rolland.
Surprisingly, the biggest challenge in designing the EPU 44 material was not making a sustainable product. "Often, people think the invention is the hardest part," says Rolland. "But in our experience, the hardest part of the job is reaching full-scale production." With the 4D line already widely available, it seems that the company is now focused on continuing to improve its material and getting it into more shoes.
Read the rest at ENGINEERING.com